Council funding for 'landmark community projects'
Lewes District Council's community infrastructure levy funding is 'making a fantastic difference' to towns and villages from all parts of the district.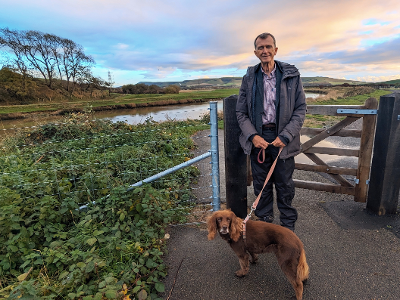 The Community Infrastructure Levy, known as CIL, is a charge that local authorities must apply to developments to fund local infrastructure projects - since 2015, Lewes District Council has allocated over £9 million to a wide range of community improvements.
Village halls, parks, footpaths, cycle paths, bridleways, sporting facilities, community safety and much more have benefited from CIL in Lewes district.
Thanks to £350,000.00CIL funding from the council, projects most recently completed include new and improved footpaths in the Salts Recreation Ground in Seaford, Egret's Way - a walking and cycling route from Newhaven to Lewes, Newick Skate Park and a new clubhouse for Ringmer Bowls Club.
Expressions of interest for the next round of CIL funding can be submitted now. The deadline is 19 December 2023.
Councillor Laurence O'Connor (pictured on Egret's Way), Cabinet Member for Planning, said:
"Wherever you live in the district, there are landmark community projects completed, underway, in the pipeline or waiting to be submitted.
"These developments are making a fantastic difference in all our communities and I encourage anyone interested in this funding opportunity to visit the council website and find out more."
Visit www.lewes-eastbourne.gov.uk for more information about CIL or contact CIL.Lewes@lewes-eastbourne.gov.uk .
All expressions of interest will be considered and eligible bidders invited to submit a full funding bid.
Published on November 20, 2023.
More ways to receive our news