Councillor welcomes 'significant progress' in emissions reduction
Cabinet councillors at Lewes District Council have agreed the future direction of the council's climate change and sustainability strategy and endorsed the actions taken with 'significant progress' achieved since the plan was adopted in 2021.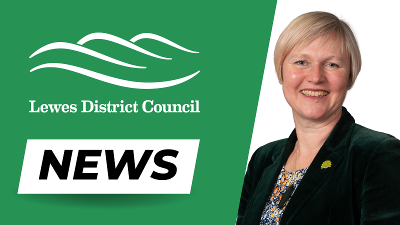 The report confirms a 16.8% reduction in carbon emission on the total baseline figure from 2018/19 and a 13.8% reduction in fleet emissions, confirming the council is on track in terms of its emissions commitments. Additionally, the carbon footprint of the district has reduced by 15%* since 2018.
Councillor Emily O'Brien, Cabinet Member for Climate Change, said: "When we made a climate emergency declaration in 2019 and put the council on course to net zero carbon by 2030, we were under no illusion about the scale of the challenge required to get there.
"However, when you consider our ambitious target and the significant progress being made, particularly in the reduction of emissions, it shows what can be accomplished and why we will double down on our determination to achieve all our climate change commitments."
Some of the key council actions include the installation of 12 electric vehicle charge points in two council car parks with another 52 planned for other car parks over the coming months, the roll out of new electric vehicles for food waste collections over the autumn and winter, natural flood management work across the district, including the Cockshut Stream Restoration Project which is also delivering biodiversity improvements and carbon capture, and the allocation of cost of living crisis funds for green energy and energy saving initiatives.
Councillor O'Brien added: "Partnerships are key to the success of any local authority's climate change and carbon reduction ambitions and so I'm extremely grateful to our many partners, all of whom share the same resolve as Lewes District Council to continue this fundamentally important work.
"With so much on-going change, whether it's national or international policy or mechanisms for delivery of action on the ground, our next step is to undertake a full review and refresh of the strategy. This will work will start immediately, with monitoring by the Scrutiny Emergency Climate Change Panel from the new financial year."
*Based on the Department for Energy Security and Net Zero (DESNZ - previously Department for Business, Energy and Industrial Strategy) data.
Published on November 10, 2023.
More ways to receive our news