Council staff praised for successful Lewes bonfire event
Councillors have thanked Lewes District Council staff for their hard work ensuring that Lewes bonfire was a success again this year.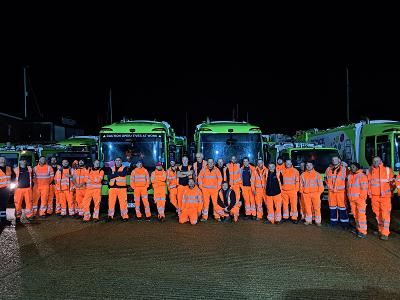 Environment First staff collected a massive nine tonnes of waste during an overnight clean-up operation following the town's bonfire night celebrations on Saturday.
The crew worked from 1am to 7am, ensuring Lewes was clear of the rubbish left by revellers when people woke up on Sunday.
After their overnight shift, the clean-up crew headed to Lewes Town Hall for the annual street sweepers' breakfast, with the Mayor of Lewes, Councillor Matthew Bird, pouring coffee and other councillors including Wendy Maples and Imogen Makepeace, serving up traditional English and optional vegan fare by way of appreciation from the town.
The Mayor said: "Once again the team did such an amazing job in clearing our streets that is almost seemed as though bonfire hadn't happened! Heartfelt thanks from all at Lewes Town Council."
Councillor Maples, who is Cabinet Member for Neighbourhood Wellbeing at Lewes District Council, said: "Huge thanks to all the Environment First crew for their fantastic work through the night to make sure Lewes was looking clean and tidy well before most people were out of bed.
"I'm pleased to tell residents that new all-electric refuse vehicles were used in the annual clean-up effort.
"Many people worked behind the scenes to ensure the success of this year's Lewes bonfire - for which I know the town and its Bonfire Societies are very grateful. I would like to thank the emergency services, St John's Ambulance service and council staff in Regulatory Services for their first-class preparations ahead of and during bonfire night, making sure this was a safe event. As we all know, this involves year-long engagement, liaising with bonfire societies, businesses and the local community and working in partnership with other agencies including crowd control experts.
"Sincere thanks too to the Neighbourhood First Team. In addition to all the work leading up to the night, which usually includes ordering chemical portable toilets, the team this year committed to keeping the three main district council toilets open instead. Cleaners and security worked throughout the event, checking that the toilets were treated respectfully, replacing loo rolls as needed and ensuring residents and visitors could have a safe and more environmentally-friendly comfort stop as needed. With an estimated 20,000 people, this was no mean feat!
"This is such a great example of where thinking about the environment, keeping costs down and making good use of our local resources - thanks to our local staff - all comes together."
Published on November 7, 2023.
More ways to receive our news