Airbourne 2023 was carbon neutral
Council funds 14,000 new trees in Uganda with £7,000 donation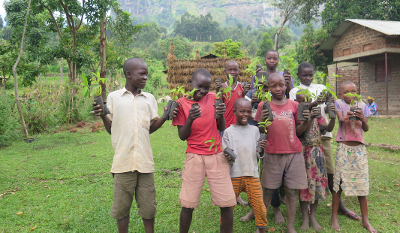 Eastbourne's International Airshow was carbon neutral this year after Eastbourne Borough Council teamed up with Eastbourne Eco Action Network CIC to support the Eastbourne United Nations Association's carbon offsetting scheme in Uganda.
In a scheme that has so far seen 175,418 trees planted in Uganda, a council donation of £7,000 will see another 14,000 trees helping to sequester carbon in the African country.
Andrew Durling, Chief Executive of Eastbourne Eco Action Network, said: "Airbourne is the biggest festival in Eastbourne's yearly calendar and inevitably has a large carbon footprint, primarily due to the many thousands of visitors coming into town by car throughout the festival.
"While measures to decrease the festival's carbon footprint over time are being taken, there is a need to offset the current carbon emissions as much as possible. Much of that will be done within the borough through initiatives such as tree-planting schemes run by Treebourne, but the scale of offsetting needed is more than can be accomplished within the borough alone."
The Ugandan project sequesters carbon much faster and in much greater quantities than any tree planting done in more northerly countries such as the UK because of the very favourable climatic conditions for tree growth in the region, which lies on the Equator.
Councillor Jim Murray, Cabinet Member for Climate Change, said: "Those that know me, will be aware that I am looking to use carbon offsetting as a last resort when trying to achieve carbon neutrality by 2030. However, this project ticks every box for a good offsetting project. It is locally run, with the team lead living in Eastbourne and is monitored for effectiveness, with a 90% success rate for the trees that are planted.
"It also helps with the local economy in the area and it is much more effective at carbon sequestration by nature of where it is. I am very happy that Eastbourne Eco Action Network and the council has supported this project and hope that others in the town will follow our lead and look to their own plans to how they offset their carbon emissions.'
The scheme is backed by scientific research and accredited by leading forestry experts. Many Eastbourne businesses and community organisations already fund the scheme, which is far more cost-effective than many other similar schemes and uses trees native to Uganda, nurtured in Uganda tree nurseries and looked after carefully by local communities.
Details of the carbon offset scheme can be found on UNA Eastbourne's website.
The United Nations Association Eastbourne, commented: "We believe in using science backed evidence to determine the specific features of our tree planting programme. Thus, Mvule is planted with two 'companion species': Maesopsis eminii and Terminalia superb. This unique tri-species programme, using highly valued agroforestry trees, enables us to be both cost-effective and efficient in meeting the challenge of the climate emergency in the long-term, whilst serving urgent community needs regarding short-term food security and medium-term household incomes."
More ways to receive our news
Keep me posted. Sign up to receive news and alerts from Eastbourne council by email
Our Social media